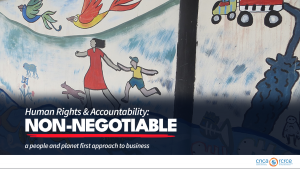 Register on Zoom: bit.ly/3NXEs4p.
For more information, see our invitation in English, French, or Spanish.
Wednesday, April 27th, 2022, 11am EDT
Join us for a one-hour roundtable with human rights defenders from the Global South.
What harms do Canadian companies inflict on communities and workers around the world? What are impacted communities asking of Canadians and of the Canadian government? Why do we need stronger corporate accountability laws in Canada?
The Canadian Network on Corporate Accountability (CNCA) is honoured to host three courageous leaders in the defence of human rights, workers' rights, and the environment:
Kalpona Akter, Director, Bangladesh Center for Worker Solidarity (Dhaka, Bangladesh)
Reverend Emmanuel Chikoya, General Secretary, Council of Churches in Zambia (Lusaka, Zambia)
Josefina Tunki, President, Shuar Arutam People (PSHA) (Sucúa, Ecuador)
Moderator: Amélie Nguyen, Coordinator, Centre international de solidarité ouvrière (CISO)
English, Spanish, French – simultaneous interpretation available.