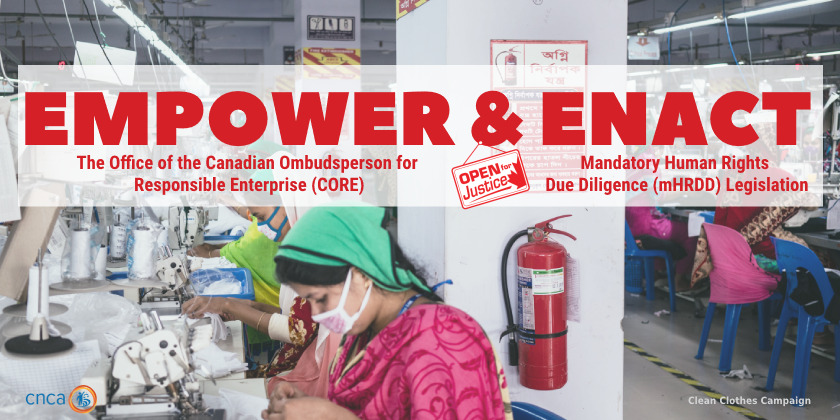 Have Your Say on Canada's Feminist Foreign Policy Today!
Canada is developing its first Feminist Foreign Policy but, so far, corporate accountability has not been included.
This is a major error. Corporate accountability, and the gendered dimensions of business and human rights, must be core to any Feminist Foreign Policy and should be adequately addressed in Canada's forthcoming White Paper.
There is still time to act!
Add your voice to the conversation by Monday November 30th and submit a video urging Canada to make corporate accountability a key component of its Feminist Foreign Policy.
Some ideas for your video:
Express your concern that the Minister of International Trade's office's has disclosed it will renege on the government's 2018 promise and will refuse to establish a human rights Ombudsperson office with the power to do its job — holding businesses accountable for human rights violations in commercial operations overseas.
Corporate accountability must be a key component of Canada's Feminist Foreign Policy

Women, girls, and vulnerable communities are often disproportionately impacted by business-related human rights abuses.
Achieving Canada's Feminist Foreign Policy objectives will be impossible unless Canada takes action to curb corporate abuse.

The Government of Canada must:

Empower the Canadian Ombudsperson for Responsible Enterprise (CORE)

An effective CORE is mandated to independently investigate human rights abuse allegations and has the power to compel documents and testimony.
The CORE should publish gender-responsive investigation procedures and gender-transformative recommendations.

Enact a comprehensive mandatory human rights due diligence law

that requires companies to prevent human rights abuse and environmental harms in their global operations and supply chains
that includes real consequences for failing to take all reasonable steps to prevent harm
Take Action now! The deadline for submitting a video is Monday November 30th.
Upload your video (1-minute or less) to YouTube and email the link to canffp@amnesty.ca by November 30th to make your voice heard.
For more information view the Feminist Foreign Policy Working Group's documents.
Spread the word of your submission on social media by using the images and sample text below.
Call on the Govt of Canada to recognize the gendered dimensions of #bizhumanrights & center corporate accountability in its Feminist Foreign Policy White Paper. Submit your video today & urge CA to empower the @CORE_Ombuds & enact #mHRDD legislation! https://bit.ly/2KAQ3Kh
Thank you!
The Canadian Network on Corporate Accountability (CNCA)