Ombudsperson
At the core of the Open for Justice campaign is the demand to create an ombudsperson to handle the grievances of people affected by Canadian oil, gas and mining companies abroad.
After 11 years of campaigning for greater corporate accountability, the CNCA is encouraged by the federal government's January 2018 announcement that it will create a human rights ombudsperson regarding the overseas operations of Canadian companies.
To read the government's announcement, click here.
Ten months since the announcement, however, the government has yet to appoint an ombudsperson. While we are encouraged that the announcement included commitments on each of the essential elements for an effective office, communities alleging serious human rights and abuses at the hands of Canadian companies are left with weak mechanisms for addressing harm while the ombudsperson's office remains vacant. The federal government must get moving on its promise.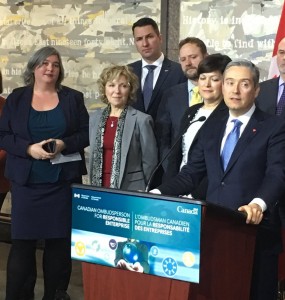 For the office to be effective, we will continue to press for it to operate at arm's length from government, free from political interference. The ombudsperson must be given the power and resources needed to conduct thorough investigations – including the power to compel the production of documents and testimony. We will monitor the office to ensure it makes public recommendations for remedy and harm prevention, and oversees the implementation of those recommendations. We will also be paying close attention to the office's recommendations for policy and law reform in Canada to hold corporations to account for the impacts of their overseas operations. All are essential components of a robust human rights ombudsperson's office that Canada so critically needs.
Across the country, our member organizations, allies, and grassroots activists have kept this issue on the political agenda through sustained engagement with their members of Parliament. And they're continuing! Join our month of action to urge the federal government to make good on its promise and appoint a qualified and well-resourced ombudsperson.
Background
An effective ombudsperson will investigate allegations of human rights abuse or environmental damage and form an opinion on whether companies are causing or contributing to harm. They will also make public recommendations of actions that could be taken by companies or the Canadian government to stop abuses, provide remedy to victims or prevent future harm.
The CNCA has developed model legislation showing exactly how that could be done. The Global Leadership in Business and Human Rights Act provides a blueprint for legislators, setting out the essential elements that should be included in any bill to create an ombudsperson to handle complaints of wrongdoing by Canadian extractive companies overseas.
Other essential reading
"Talk is Not Enough" – Why we need an ombudsperson, and how this office would compare to Canada's two existing ineffective grievance mechanisms
Parliamentary report card
See which parties and MPs have demonstrated a commitment to creating an ombudsperson
Criteria for an effective ombudsperson:

Download the full infographic (PDF format)
Take action
Join CNCA members across Canada urging the federal government to make good on its promise and appoint a qualified ombudsperson.